If you're reading this article you're likely to have arrived at the crossroads dreaded by most aspiring scuba divers: choosing the most suitable diving certification. Today, we're diving deep into the world of scuba diving certifications and comparing two of the biggest players in the game: PADI and SSI.
PADI and SSI are both internationally renowned organizations that provide various degrees of professional diving certifications for qualified divers. These diving training agencies train the divers to follow international diving standards and handle worst-case scenarios.
A Brief Introduction to Padi and SSI
PADI
PADI is the acronym for the Professional Association of Diving Instructors.
It has been in the diving training industry for over 50 years.
It mainly focuses on recreational diver training.
SSI
SSI is the abbreviation of Scuba Schools International.
It has been in the scuba diving and free diving training industry since 1970.
It is the first organization to create a complete teaching course curriculum.
Padi and Ssi Are Similar in More Ways than You Think
When it comes to scuba diving certification programs, PADI and SSI have a lot in common. Here are some of how these two programs are similar:
1. International Recognition
Both PADI and SSI are internationally recognized scuba diving certification programs, monitored by WRSTC. This means that you can take your certification from either program and use it to dive anywhere in the world. However, PADI has a slight upper edge in terms of popularity compared to SSI.
2. Equivalent Certification Levels
Multiple equivalent courses based on difficulty are present at both PADI and SSI. The certification levels include beginner, intermediate, and advanced levels. Additionally, both programs offer specialty courses that allow you to focus on specific areas of scuba diving.
Here's a table of equivalent certification levels at PADI and SSI:
| PADI Certification Level | SSI Certification Level |
| --- | --- |
| Open Water Diver | Open Water Diver |
| Advanced Open Water Diver | Advanced Adventurer |
| Rescue Diver | Diver Stress and Rescue |
| Master Scuba Diver | Advanced Open Water Diver + 5 specialties |
| Divemaster | Divemaster |
| Instructor | Instructor |
The table only concerns the main diving certifications- additional specialty courses are not taken into account here
3. E-Learning Options
Both PADI and SSI offer e-learning options for scuba diving certification courses. This means that you can complete the theoretical portion of the course online at your own pace before attending the practical training sessions.
4. Experienced Instructors
PADI and SSI require their instructors to go through rigorous training to become certified. This ensures that the instructors are experienced and knowledgeable, and can provide you with the best training possible.
5. Dive Log
Both PADI and SSI require you to keep a dive log, which is a record of your dives. This log helps you keep track of your progress and is also useful for showing your diving experience to other dive operators.
6. Additional Specialty Courses
Specialty courses are optionally elective courses that allow divers to gain additional skills and experience in particular areas beyond the usual chain of main certifications.
When you look at specialty dive courses beyond open water certification, you'll notice PADI provides a bit more variety than SSI. PADI offers over 30 different specialty courses including underwater photography, wreck diving, night diving, sidemount specialty, nitrox diving, and more. In fact, the list of specialty courses keeps on increasing each year. Some of them are pretty redundant in my opinion.
SSI's specialty lineup is smaller but still covers the major areas like deep diving, Nitrox, drysuit diving, night diving, and limited visibility. So if you want to master a very specific skill like underwater videography or ice diving, your best bet is to look for it in the PADI catalog.
SSI covers the essentials through its specialty courses, while PADI expands into more corners of advanced recreational diving. So depending on your interests, the broader PADI selection may appeal to you.
8 Aspects in Which Padi and Ssi Are Different
SSI and PADI courses are similar in multiple ways. But some essential aspects set them apart significantly.
1. Curriculum Structure
Both the certification course curriculum is available as printed manuals and e-learning materials. PADI expects the students to complete the course in a specific order. However, SSI frames the curriculum to be highly flexible and to support the student's interests and skills.
One area where SSI differs from PADI is in its focus on related disciplines, such as snorkeling, freediving, and mermaid diving. SSI offers a range of courses in these areas, allowing students to develop their skills in a variety of underwater activities.
2. Certification
Both PADI and SSI offer certification cards to their students.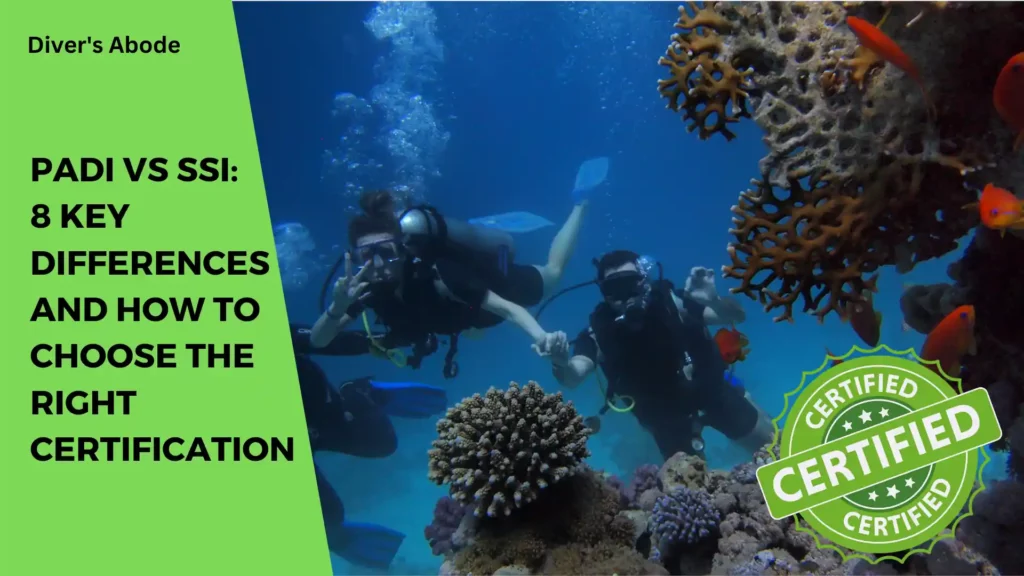 PADI Certification
PADI offers both physical and digital certification cards, but they charge a fee for downloading the digital version. While the physical card is mailed to the student's address, the digital card provides a convenient option for accessing their certification without having to wait for the physical card to arrive.
SSI Certification
SSI offers a free digital certification card that can be immediately downloaded from their application. This provides students with quick and easy access to their certification and allows them to begin diving right away.
The physical card will also be sent to the student's address, which they can use for identification purposes while diving.
3. Course Resources
While the course materials of both PADI and SSI are structurally identical, they differ mostly on the grounds of cost and availability.
PADI Online Resources
PADI online course materials are not available for free. Their online learning database is accessible for up to one year from the day of sign-up after you buy access to their online resources. This means that students have a limited amount of time to complete their coursework and access the learning materials provided by PADI.
SSI Course Materials
In contrast, SSI offers unlimited access to its app-based learning platform at no extra cost. This means that students can use their coursework and learning materials at any time, and their own pace. This is extremely convenient for those of us who have a busy schedule or other commitments that make it difficult to have consistent dedication toward our diving course.
Thus, SSI offers more convenience when it comes to e-learning which too free of charge.
4. Instructors
PADI Instructors Are Bound By Rigidity
PADI has a standardized teaching system that ensures all instructors must stick to the prescribed course material. Instructors are not allowed individual flexibility while teaching at PADI. While this kind of concise approach keeps the course duration optimal, it also makes students miss out on a lot of personal insights from experienced instructors.
PADI-certified instructors can work independently in any part of the world without an affiliation with any dive center.
SSI Instructors Have More Personal Liberty
SSI, on the other hand, emphasizes the importance of personalized instruction and encourages instructors to adapt their teaching methods to suit the needs of individual students. This offers room for a more efficient and effective learning experience for students.
SSI-certified instructors need mandatory affiliation to the SSI dive center to function.
5. Costs
When it comes to the costs of certification, there are some notable differences between PADI and SSI.
PADI Is More Costly in General
PADI offers payment-based online courses, which means that students have to pay for the course regardless of whether they take it offline or online. The cost of PADI's open water course is also generally higher than SSI's.
SSI Is More Economic
On the other hand, SSI's online certification course is free and app-based, making it more accessible to those who want to learn how to dive without having to invest a significant amount of money upfront.
Besides, the certifications at SSI are generally cheaper than their PADI counterparts while offering the same level of professional training. Scuba diving can quickly become an expensive hobby if your spending habits are left unchecked, so it helps to efficiently cut costs wherever possible.
6. Training Efficiency
PADI and SSI are quite different in their approach to teaching methodologies.
PADI Training Efficiency
PADI's training materials are designed to be user-friendly and easy to understand, making it easier for students to absorb the information they need to become safe and competent divers.
PADI training program also involves a rigid linear approach where divers have to complete each step to proceed to the next in PADI training.
For example, the PADI Open Water Diver Course is broken down into five phases, which cover topics such as dive theory, equipment, and skills training. Each module has specific learning objectives and performance requirements that must be met before moving on to the next module.
SSI Training Efficiency
SSI, on the other hand, emphasizes the importance of personalized instruction and encourages instructors to adapt their teaching methods to suit the needs of individual students. This can result in a more efficient and effective learning experience for students who may have different learning styles or abilities.
SSI also takes a non-linear and modular approach in their training methodology which lets the divers shelf a skill or level if they struggle with it and allow them to complete it later in training. This SSI approach enables the divers to gain confidence naturally and effectively.
7. Time Commitment
Both PADI and SSI offer courses with varying time commitments.
PADI Time Commitment
PADI offers a variety of courses that range in duration from a few hours to several weeks. For example, the Open Water Diver Course can take 3 to 4 days to complete.
SSI Time Commitment
SSI also offers courses with varying time commitments. Their Open Water Diver Course, for example, typically takes 4 to 5 days to complete. However, they also offer a Fast-Track Open Water Diver Course that can be completed in as little as 2 days.
8. Diving Philosophy
Both PADI and SSI have slightly different approaches to scuba diving philosophy.
PADI Diving Philosophy
PADI's approach to scuba diving is centered around the principle of "learn, practice, apply." PADI courses prioritize developing practical diving skills through hands-on experience and less theoretical jargon, with a strong emphasis on safety and environmental awareness.
This approach may be most suitable for divers who are quick learners and prefer a more flexible and adaptable learning experience, with an emphasis on practical application rather than a rigid structure.
SSI Diving Philosophy
SSI's approach to scuba diving is based on the principle of "comfort through rote learning." SSI courses focus on developing practical skills through repetition, with a strong emphasis on building confidence and familiarity with diving equipment and techniques.
If you're someone who likes to take things at a steady pace and build your knowledge and abilities through consistent practice and retention, then SSI's way of teaching may be a great fit for you.
PADI and SSI Certifications Are Interchangeable and Reciprocable
Here's some good news, you can switch (back and forth even if you want) between PADI and SSI for your certifications as you advance in your diving journey! How cool is that?
If you get your initial open water certification with PADI, you shouldn't have any problem taking an advanced course with SSI later on. And vice versa – start with SSI and then go PADI. The two organizations have an agreement that lets you mix and match their courses.
So if you're thinking, "Uh oh, I'm stuck with PADI/SSI forever…" don't worry! You've got options. As you progress into more specialized dive training, you can shop around for courses based on convenience, fit, or even cost.
My advice is to verify the crossover rules with your instructor first, just to be 100% sure. But in general, it seems you can switch teams easily between PADI and SSI. Freedom and flexibility – that's the diving life!
So Should You Get a PADI or SSI Certification After All?
So, all in all, which certification is right for you: PADI or SSI? Well, that decision boils down to your personal choice.
Both PADI and SSI offer world-class training and top-quality certification for professional divers. The governing body of free diving and scuba diving, the WRSTC (World Recreational Scuba Training Council), regulates and monitors both certifications. So, there is no upper hand for anyone in the quality of training.
However, SSI possesses a slight edge due to the low expense and flexible learning plan. You can use the free SSI app for learning and downloading the certification card. The course curriculum is flexible to match each diver's learning curve so that the students will experience a comfortable learning process.
If cost is not a concern for you and you look forward to working as an independent diving instructor or want to learn advanced diving, PADI is your best option.
I received my main chain of certifications right from OW to Divemaster as well as my specialty certifications from PADI but had my fair share of test certifications from SSI and NAUI too (burnt a hole in my wallet to quench my curiosity) and my final verdict is: Being an appraiser of rigorous discipline I liked the stricter approach of PADI over SSI.
At the end of the day (or should I say 'end of the course') what you need is a professional certification that attests to your scuba diving abilities and lets you take a plunge with confidence.