Is scuba diving an expensive hobby? This is a question that we get asked a lot, and it's tough to answer because it varies so much from person to person. Some people can dive for years on a shoestring budget, while others find the costs quickly add up.
Obtaining your diving certification, buying a hefty load of essential diving gear, getting your dive insurance, and travel costs can all add up over time to a modest expense, making scuba diving quite an expensive hobby that requires your investment and time.
But if you have the means to afford scuba diving as a hobby by all means go for it without second thoughts. It's not a sin to spend some extra bucks while pursuing your hobby.
In this article, I've amassed all the resources you need regarding the financial aspect of scuba diving with some personal inputs of mine based on experience to help you get the bang for the buck.
What Is the Average Cost of Scuba Diving?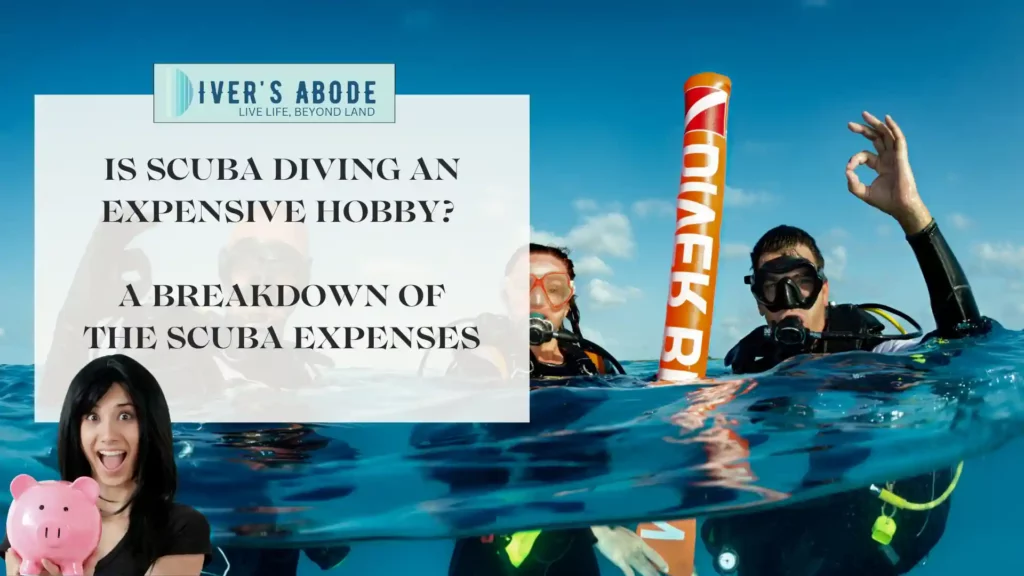 You can expect to spend approximately $300 to receive the basic open water diving certification, somewhere between $1500 – $5000 on scuba diving gear, dive insurance costs around 200$-1000$/year and about $75 – $150 per dive for tank refills and dive instructor.
If you plan to rent your diving gear instead of buying you can cut down some costs. Additionally, there are traveling expenses that vary greatly based on your choice of location.
I'm breaking all the expenses down in further detail including suggestions best suited for your purpose of diving.
Certification Costs
First things first- grab your dive certification. There are different progressions of scuba certification along with certain specialty add-on courses. PADI is the largest certifying agency in the world, issuing roughly two-thirds of all open water diver certifications. Apart from them, there are also agencies like SSI, NAUI, and BSAC that offer certification at affordable rates.
I'd suggest going for the above-mentioned agencies (preferably PADI or SSI) as they are extremely reputable. Getting your dive certification is a one-time affair and it will be valid for your entire lifetime.
You don't want to skimp on quality by taking a subpar certification course from a shady agency just to save a few bucks.
Here's a table listing the most common scuba certifications offered by PADI for a new aspiring scuba diver:
Certification
Approximate Cost
Remarks
Discover Scuba Diving
$50-$200
If you want to dip your toes in the world of diving without committing to a full course.
Good for those who can't make up their mind on diving yet.
Open Water Diver
$300-$500
The most sought-after beginner course if you want to dive independently up to 60 feet.
This is the ideal starting point.
Advanced Open Water Diver
$300-$500
For certified open water divers who want to gain additional skills and experience, such as night diving or wreck diving.
Not complimentary, but taking this course after finishing your OW certification is generally recommended.
Dive Master
$700-$1,000
For those who want to achieve the highest non-professional level in recreational diving.
This gives you access to assist dive instructors in teaching new divers.
Great for those seeking a part-time job in the diving industry.
PADI offers the most affordable and stellar class dive training among all agencies. So getting their basic open water diver certification course is the most viable option if you wanna become a recreational diver. After logging enough dive hours and experience you may try their advanced open water certification to take it another step further.
Essential Gear: How Much Is Scuba Diving Equipment
If you're trying out diving for the first time you should start with rental scuba equipment. Sure, rental gear has that secondhand and worn-out feeling to it but it's the better and budget-friendly option if you cannot make up your mind about pursuing diving in the future.
In the US, renting full diving gear from most dive rental shops will cost you around $150-$250/week excluding the cost of filling up your tank.
While rental options are available at most dive centers, owning your own gear can save you money in the long run and offer you the comfort and fit of equipment that's tailored to your needs.
Buying a firsthand set of durable scuba equipment including all secondary accessories will set you back $1500-$2000 at the minimum and at most $8000-$10000.
Take the following into consideration before spending that much money on your gear :
The Type of Dive
Will you primarily be diving in warm or cold water? The type of diving you plan to do will determine the necessary thickness of your wetsuit, the type of fins you'll need, and the need for a dry suit, gloves, and hood.
Cost of Your Gear Can Vary Largely Based on Brand and Quality
As with any gear, higher-quality equipment will come at a higher cost. While you may be tempted to go for a lower-priced option, investing in high-quality gear can last you for years to come and save you money in the long run. In general, brand equates to great quality but that may not always be the case.
So do what everyone else has done before you, stick with brands that are popular like Cressi, Aqua Lung, Apeks, Suunto, Scuba Pro, etc. It might not always be pocket-friendly but at least you won't regret compromising with quality.
Comfortable Fitting
Ill-fitting gear can cause discomfort and even be dangerous underwater. Make sure to try on multiple combinations of gear to ensure a comfortable and secure fit before purchasing.
Your Budget
A great option for saving money without sacrificing quality is to opt for second-hand dive gear. You can always find second-hand diving gear in remarkable condition at half the original price in the market. As with any second-hand equipment, examine each piece of the gear properly before purchasing.
For your convenience, I have summarised all the scuba equipment you need and their associated costs in the following table. I have marked the ones that are optional accessories that you can do without, with a red asterisk.
| Gear | Approximate Cost |
| --- | --- |
| Dive Regulator * | $200-$1,500 |
| BCD (Buoyancy Control Device) * | $300-$1,500 |
| Wetsuit * | $100-$1,000 |
| Drysuit * | $800-$3,000 |
| Fins * | $40-$300 |
| Mask * | $20-$150 |
| Snorkel* | $10-$50 |
| Dive Computer* | $200-$1,500 |
| Dive Light | $50-$500 |
| Dive Knife | $20-$150 |
| Dive Bag | $50-$250 |
| TOTAL COST | $1,900-$9,950 |
* Should be your first priority
Additionally, renting (recommended) and refilling your dive tank with breathing gas will cost about $20-$50 per dive session depending on the mixture.
When it comes to selecting gear, prioritize the essentials such as a wetsuit, fins, mask, BCD, snorkel, and regulator. Don't skimp on these items as they play a crucial role in your comfort and safety underwater. Other accessories like dive computers and dive bags can be added later on as your budget allows.
TIP: Investing in quality gear now can save you money in the long run. Good quality primary scuba gear can last you 10-15 years if properly taken care of. You'll spend less on maintenance and replacement costs over time, and you'll have gear that you can rely on for years to come.
Securing Your Dive Insurance
Take the plunge with peace of mind. It's essential to have dive insurance coverage to protect yourself from potential accidents or dive-related injuries. As a beginner recreational diver, you can easily get overwhelmed while choosing the perfect diving insurance. On average dive insurance would cost you around $150-$200 annually. Consider the following tips :
Look for providers that offer coverage for medical expenses, emergency evacuations, and trip cancellations.
Consider bundling your dive insurance with your travel insurance to save on costs if you plan on traveling to exotic scuba diving destinations.
Opt for annual coverage plans if you plan on diving frequently throughout the year.
Read the fine print of your insurance policy to ensure that it covers the specific activities and destinations you plan on diving in. Don't give any space to these vultures to exploit legal loopholes and deny your insurance coverage.
Consider purchasing dive insurance through a dive center or organization like DiveAssure or DAN.
To give you a rough estimate I have compiled a chart of trusted Dive Insurance providers below :
| Insurance Provider | Annual Cost for Basic Coverage | Annual Cost for Enhanced Coverage |
| --- | --- | --- |
| DiveAssure | ~$99 | ~$249 |
| DAN (PADI Endorsed) | ~$75 | ~$149 |
| DiveMaster Insurance | ~$95 | ~$250 |
| SSI | ~$40 | ~$100 |
If you ask me personally I would say Dive Assure's Annual Multi-Trip Dive and Travel Insurance plan provides the most coverage benefits and has been my dive insurance provider for the past 7-8 years.
Dive Trips: The Cost of Travel and Accommodation
Why did the diver go to Chattanooga instead of Belize?
Because he didn't want to burn a hole in his pocket for a single diving trip!
Yeah, no surprise. Traveling and Accommodation costs solely depend on the diving destinations you choose. But again, scuba divers are no ordinary people. We're a cunning bunch known for improvising abilities both underwater and on land. You can cut down on travel expenses by a lot if you follow these basic suggestions:
Book your trip early during off-peak travel seasons.
Look for alternative accommodation options such as hostels, vacation rentals, or camping.
Grab those juicy package deals that include both travel and accommodation.
Join a diver's community or club to take advantage of group discounts (these can cut down on your all-around expenses by a lot).
Purchase travel insurance to protect yourself from unexpected cancellations or emergencies. Trust me, they happen more often than you think.
Is Scuba Diving Worth the Expenses? My 2 Cents on This
The feeling of weightlessness or the time when I first spotted an idling manta ray in the blue sun-splashed ocean backdrop are sufficient reasons for me to spend my hard-earned money on diving. Scuba diving offers countless benefits that can improve both your mental and physical well-being.
Increased Physical Fitness: Scuba diving requires physical exertion, which can improve your cardiovascular health, muscle strength, and flexibility.
Mental Health Improves by Leaps and Bounds: Numerous war-torn veterans have found solace in scuba diving. That alone speaks volumes on the mental healing power of scuba.
Conservation and Environmental Awareness: I have yet to meet someone from the diving community who doesn't exhibit unconditional love and concern for the oceans and nature. So yeah, be ready to unconsciously become an advocate for nature conservation.
Improved Spatial Awareness: Scuba diving requires you to wander through three-dimensional environments unknown to you, which can polish your spatial awareness and ability to mentally map your surroundings. Your coordination and navigation skills will get off the charts.
You Learn the Value of Patience: If scuba diving has taught me anything, the ability to calm my nerves is definitely one of them. Scuba diving helps you exercise more control over your patience which can translate to other aspects of life.
Cultural Immersion: If you love exploring the diversity of different cultures around the world, scuba diving offers the perfect opportunity for you to visit a variety of places and experience a plethora of fascinating cultures.
Enhanced Photography Skills: Underwater photography is one of my dive-centric side hobbies. Scuba diving can be the perfect opportunity to brush up on your underwater photography skills.
You Start Appreciating the Defeating Silence of Nature: The quiet and peaceful underwater environment can offer a welcome break from the noise and chaos of daily life, and help you develop an appreciation for silence.
Parting WOrd
My motto has always been: Investing in Your Passion Is a Virtue, Not a Vice. If you are passionate about diving, don't let the costs deter you from pursuing your passion. Scuba diving can be an expensive hobby, but with some clever cost-cutting strategies and careful planning, you can turn it into a more affordable adventure.
The feeling of weightlessness as you glide through the water, the thrill of spotting a colorful reef fish, and the sense of accomplishment when you successfully complete a new dive – these are the priceless moments that make all the diving expenses worth it.
"The sea, once it casts its spell, holds one in its net of wonder forever."

Jacques Cousteau