Tucked away in the rolling hills of northeast Tennessee, the Gray Quarry is an unexpected scuba diving paradise that attracts adventure seekers from across the country.
This 70-foot-deep flooded pit that was once an abandoned gravel mine has been painstakingly transformed into a bustling underwater ecosystem filled with wrecks, wildlife, and wonder.
For a long time, this lifeless quarry was written off as just another abandoned mine filling with water. But one man's vision and perseverance created something truly special below the surface – a scuba diving destination that keeps you guessing at every depth.
Join me on a tour of this unlikely scuba diving hotspot, from its fascinating origins and early challenges to the aquatic attractions divers can discover across three depth plateaus. By the end, you'll be itching to gear up and take the plunge into this unique underwater world.
From Abandoned Pit to Scuba Diving Oasis: The Gray Quarry's Remarkable Transformation
How an Unsustainable Gravel Mine Became a Flood-Prone Pit
The Gray Quarry site has a rich history long before it became a popular dive destination. Located between two small cities in Gray, northeast Tennessee, the area was heavily mined for gravel and minerals from the 1950s up until the 1970s.
Unfortunately, the mining companies eventually dug too deep, hitting the natural water table. This caused the pit to flood with 70 feet of water immediately, forming a lifeless lake. With mining no longer viable, the pit was simply abandoned, becoming an oversized eyesore.
Resident Wayne Bartley saw promise in the flooded quarry pit, dreaming up ideas to convert it into a unique scuba diving playground. But major hurdles lay ahead to transform this "attractive nuisance" into a safe, thriving aquatic ecosystem.
Wayne Bartley's Quest to Build a Local Scuba Diving Oasis
Wayne Bartley knew that northeast Tennessee was sorely lacking in scuba diving sites where new divers could safely learn and get certified. The nearest decent spots were hours away.
So in 2014, Bartley set his sights on converting the long-abandoned Gray Quarry into an ideal location to scuba dive and train. After befriending the private owner and gaining access, Bartley purchased the massive 450-foot by 250-foot flooded pit to realize his vision fully.
But major environmental challenges quickly surfaced at the stagnant, lifeless quarry. Years of accumulated silt and debris they led to extremely poor visibility in the opaque green water. The depths contained dangerously low levels of oxygen, creating an inhospitable environment for marine life. Experts deemed the water quality "hopeless" for supporting aquatic species.
Pioneering A High-Tech Aeration System
Bartley remained undeterred, pioneering clever solutions to transform the quarry into a scuba-friendly oasis.
First, he researched commercial aeration systems but found they couldn't oxygenate deeper than 15 feet – not nearly enough reach for the 70-foot-deep quarry. So thinking outside the box, Bartley engineered his own custom deep water aeration system from the ground up.
In 2017 after years of planning and testing, Bartley finally installed his innovative aerator system in the flooded pit. Powerful bubble towers pumped air to the deepest points, while underwater jets stirred up settled debris.
Within just weeks, the water clarity and oxygen levels improved remarkably thanks to Bartley's aerator system. By the summer of 2017, just three years after purchasing the abandoned quarry, Bartley was able to officially open it for scuba diving. His visionary persistence had paid off.
The Gray Quarry Is a Playground for Scuba Divers
The revived Gray Quarry today contains a fascinating underwater landscape across three distinct depth zones, offering endless surprises for scuba divers.
Depth, Visibility, Temperature, and Thermal Stratification
The revived quarry contains distinct conditions across its three depth plateaus:
Depth: From 4 feet to over 70 feet at the quarry's deepest spots
Visibility: From 10 feet in siltier shallows to 60+ feet in deeper zones
Temperature: averages 68-72°F during summer, dropping to 48-50°F in deeper water year-round
Shallows Full of Wrecks and Relics
From 4 feet down to 12 feet, divers will discover an intriguing shallow plateau littered with welded metal sculptures, sunken boats, buses, and even an entire houseboat resting on the quarry bottom. This zone offers exciting wreck diving and plenty to explore while allowing natural light to filter down. unique
Swimming through the human-made structures, keep an eye out for friendly fish including bluegill who've made the wrecks their home. As a new diver, I felt at ease investigating the shallow wrecks, with ambient sunlight illuminating the curiosities around each turn.
A Blooming Marine Ecosystem at Mid-Depth
Descending to the middle plateau spanning from 12 feet down to 20 feet, the wildlife starts to flourish. Schools of fish thrive around reef structures specifically installed to stimulate aquatic life. Sunken boats like pediatric fishing boats and houseboats provide shelter for creatures.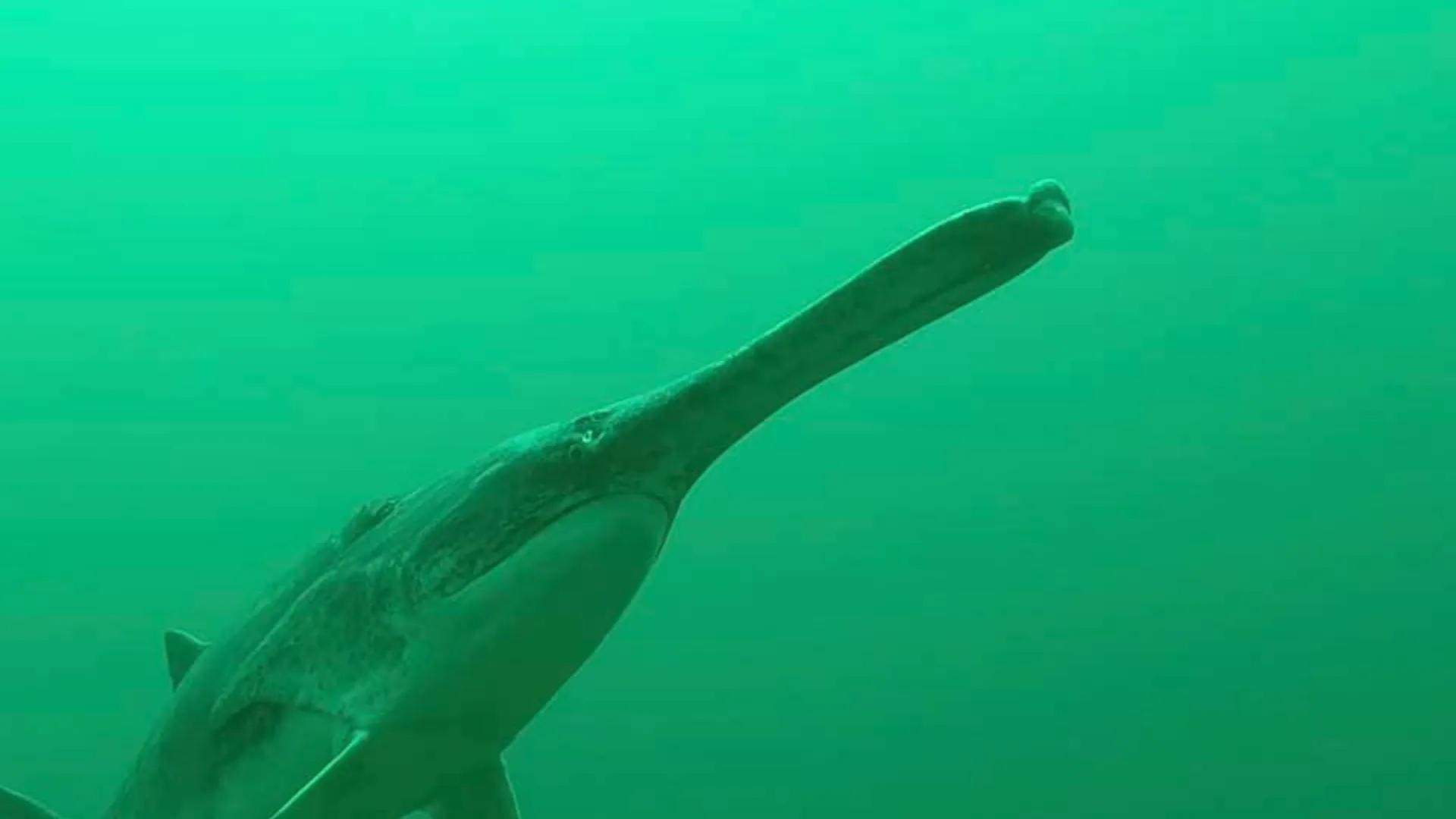 While scuba diving in this twilight zone, I glimpsed rare, ancient-looking paddlefish soaring by – a prehistoric species with shark-like tails and elongated snouts. Bartley obtained special permits to introduce these unique fish to help populate the quarry ecosystem. Apart from that, I did catch a few glimpses of zebra mussels and freshwater sponges littered all around.
Seeing Colorado's state fish thriving here in the quarry's revived habitat showed Bartley's vision coming full circle. And it makes diving to these depths full of surprises.
Venturing inside the creepy, barnacle-encrusted structures revealed another school of curious bluegills. Mid-water wrecks like these create such dynamic marine ecosystems, blending nature with human relics.
Deeper Wrecks and Rare Wildlife Surprises
At depths from 20 to 70 feet, mysteries await inside the quarry's deep plateau. Bartley intentionally sunk an entire Cessna plane here, for wreck divers to explore. So what if you can't visit the sunken wrecks at the Bermuda Triangle? The Gray Quarry got your back!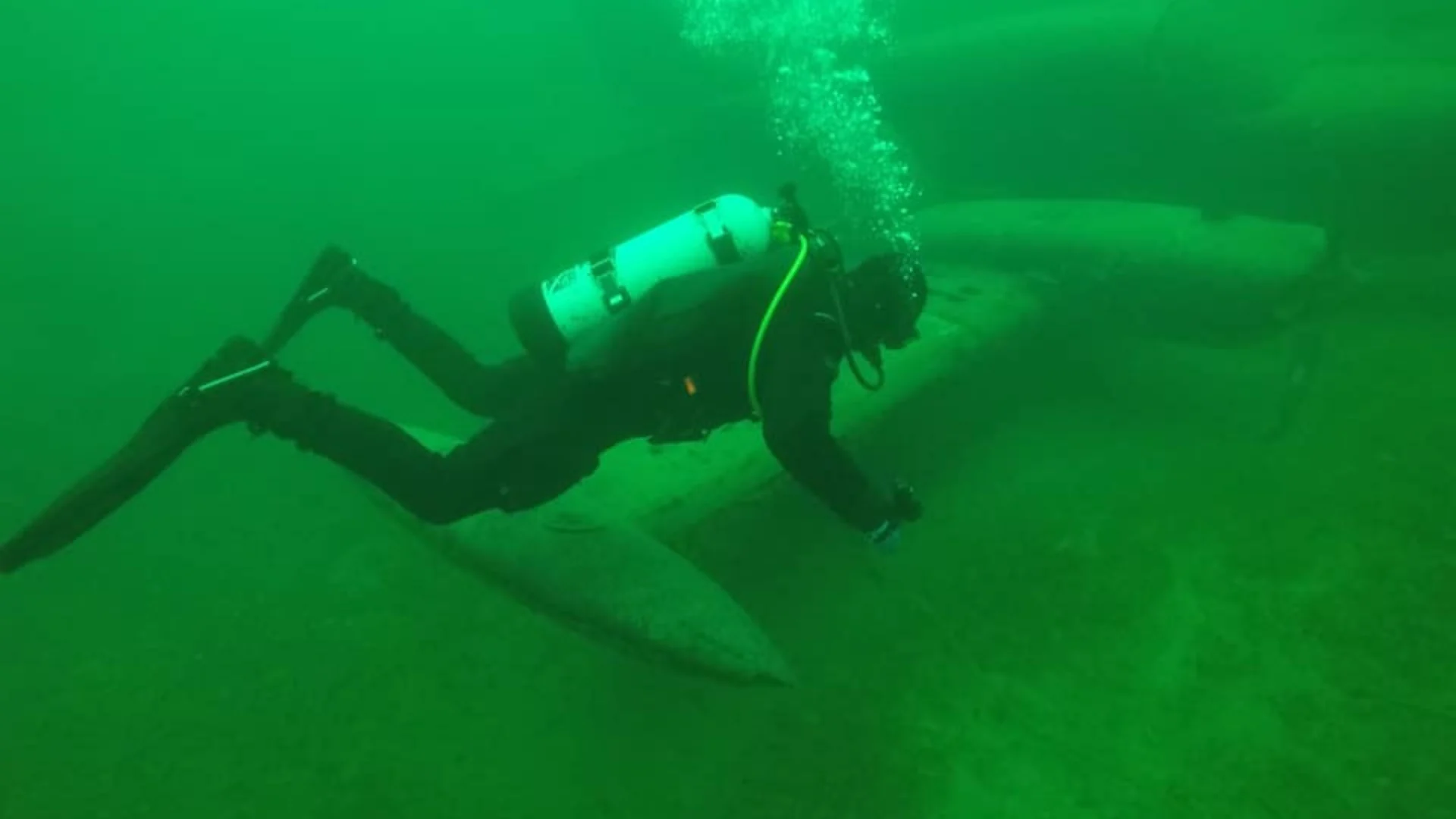 The Gray Quarry Is the Ideal Training Ground for Scuba Divers of All Levels
The Gray Quarry's unique design makes it the perfect training ground for scuba divers looking to sharpen their skills without breaking the bank.
For new divers, the shallow 4-12 foot depths are ideal for practicing ear equalization, buoyancy control, gear handling, and mask clearing in a safe, controlled setting under direct sunlight. The middle plateau from 12-20 feet offers decreased visibility to start mastering low-light and confined space skills.
Even experienced wreck divers can simulate technical dives using the deep plateau's intentional depth tiers and wrecks. The three distinct "steps" down to 70 feet are like an underwater classroom, allowing divers to practice descents, explore deep wrecks, and then work in decompression stops during their controlled ascent.
Planning Your Visit: Know Before You Go
Ready to take the plunge into northeast Tennessee's Gray Quarry? Here are a few need-to-know tips for visiting:
Location and Hours
The quarry is conveniently located right off Interstate 81 near Gray, TN. It's generally open from 8 am to 6 pm daily during peak season from May through October. Winter hours are limited.
Services and Amenities
The quarry has on-site scuba tank refills, gear rentals, and shop-stocking accessories. You can also take diving lessons from their PADI-certified dive shop called the "Smoky Mountain Divers" if you wanna make your scuba debut in the quarry.
Entry Fees
It's just $20 per diver for full-day access. That's an incredible value to explore this unique underwater world.
Safety First
Don't forget your certification card, log book, and proof of dive insurance. Solo diving is prohibited – always dive with a buddy or with a dive instructor. Respect underwater wildlife and wrecks. And adhere to depth limits appropriate for your certification level.
Diving Into Tennessee's Hidden Gem
In just a few years, Wayne Bartley remarkably transformed an abandoned flooded gravel pit into a world-class scuba diving destination. The revived Gray Quarry is now a thriving underwater ecosystem welcoming divers to discover wreck diving, wildlife encounters, and underwater surprises across three unique depth zones.
This transformed flooded pit beat the odds and became an aquatic playground thanks to one man's vision. If you're looking for a scuba adventure that keeps you guessing at every depth, the Gray Quarry should top your list. Trust me, you'll never forget this dive!